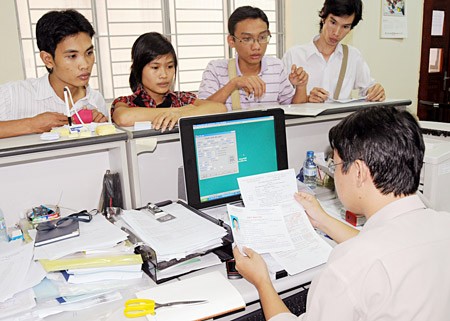 Students wait for the Ho Chi Minh City University of Social Sciences and Humanities to correct their admission forms. (Photo: SGGP)
More than 700,000 students sat the first day of the second session of university entrance exams on July 9. The second session consists of biology, math, chemistry, literature, history, geography and foreign languages.
In Hanoi, traffic jams occurred as a huge wave of students flocked to central exam centers at peak hours.
In Ho Chi Minh City, many students who applied for Ho Chi Minh City University of Industry said their invitation letters did not show the time schedule for the last exam.
The school said it announced the exam schedule and reminded its students after each exam.
At the University of Pedagogy, hundreds of students were waiting for the university to correct some mistakes, including wrong names and subject codes in their invitation letters.
This year, Hue University opened exams to nine blind students. They will listen to the exam questions and complete their tasks in Braille.