Schools can increase their teaching time or the quantity of their lessons in accordance with the abilities of their students, according to a directive by the Ministry of Education and Training. However, the increase should not incur any extra charge to the student, the directive said.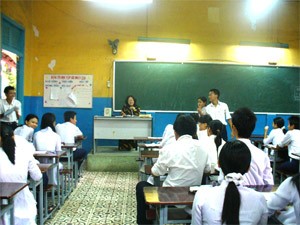 Secondary students will get longer classes in the 2008-2009 school year (Photo: Uyen Phuong)
The schools are defined in the directive as boarding schools, private schools and wealthy schools which can pay a tuition fee for the extra class time.  
The directive will apply for the 2008-2009 school year and for all the schools. 
In other news, the middle and high schools nationwide will apply to a study schedule of 37 study weeks. Fall Semester is 19 weeks and Spring Semester is 18 weeks. 
The number of study weeks will remain the same, but the length of each class will increase. The ministry hopes to reduce the number of classes taken a week by each student by increasing the length of each class.