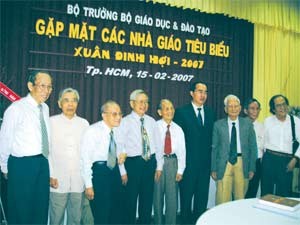 Minister of Education and Training Nguyen Thien Nhan (4th from R) and the senior educators at the meeting
Viet Nam is to focus on improving the quality of teaching staffs and apply scientific and technological advances to aid in Viet Nam's international integration of its education system, agreed many acclaimed professors and senior teachers at a recent meeting in Ho Chi Minh City.
Eight former Vietnamese educators gathered for a meeting over the Tet holiday last week by invitation of the Minister of Education and Training, Mr. Nguyen Thien Nhan. The meeting was not only a chance to get the former educator's opinions on ways to improve the education sector but it was also an opportunity to express the country's gratefulness for their valuable contributions to the people and education in Viet Nam.
According to Professor and Teacher Hoang Nhu Mai, Viet Nam's education authorities must live by the slogan "All for Education". He said that by applying more preferential policies for teachers would allow them to focus more strongly on teaching and thus improve their contribution to the education system and aid in its development.
The teachers also discussed other relevant hot topics, such as the levels of cheating in examinations, the need for curriculum reform, and Viet Nam's educational development with regards to the country's integration into the World Trade Organization.
Former Minister of Education and Training, Professor Tran Hong Quan, emphasized the need to persuade increasing numbers of overseas Vietnamese, especially intellectuals and experts, to join hands in the nation's education reform. He also said that Viet Nam must increase its teaching quality, build a comprehensive infrastructure of education and create new policies to attract more investors into the sector.
Associate Professor and former Deputy Prime Minister, Doctor Luong Ngoc Toan, said the ministry should learn how to exploit its internal strengths whilst taking full advantage of the world's current achievements in science and technology to progress and further develop the nation's education.