Many students of An Nghia Senior School in Nha Be District in Ho Chi Minh City fainted for unexplained reasons from November 5-7.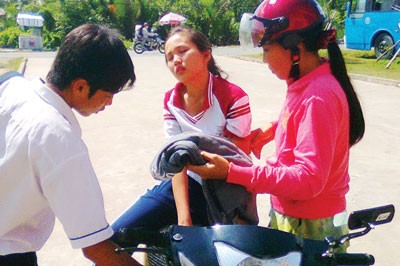 An unconscious student being taken by her parents to the hospital (Photo: SGGP)
School managers and health workers are conducting an investigation into what could have caused this situation, leading also to an uncomfortable atmosphere of fear among students, parents and school staff.
On November 7, five students suddenly fell unconsciousness and were moved to the school's medical facility.
Earlier they had experienced fatigue, breathing problems, high fever and convulsive fits, even shouting. Among these, four had also fainted two days ago.
Many students said that on November 5, an eleventh grade student had been the first to faint while all students of the school were sitting out in the yard listening to a police officer speak on rules for Traffic Safety. Later several female students of tenth and twelfth grades fainted en masse and were all rushed for emergency treatment to the An Nghia General Practice Clinic, barely 10 meters away from the school.
Dr. Nguyen Thi Anh Tuyet, head of the clinic, said on November 5 alone, nearly 80 unconscious students were treated there. Several days later, many more collapsed and fainted at the same time. All the students were taken to the clinic for emergency treatment.
The situation is worrying parents and many of them did not even go back home or to their offices, but waited all morning at the school gate. Thi Huong, a mother of a tenth grade student from Ly Nhon Commune, said she decided to bunk office in the morning to be near her child. She hopes the health workers will reach some sort of conclusion soon to uncover this strange malady.
Ngo Tan Hung, headmaster of the school, said doctors at the General Hospital and the Preventive Medicine Center are checking the environment and diet habits of the students. Initial conclusions rule out the school environment, as the classrooms are very airy and the food prepared is safe and hygienic.
Doctors think the reason might be that some students suffered from hypocalcaemia--low calcium levels in the blood--or stress due to pressure of learning. Lack of oxygen or heart diseases are also not being ruled out.
Assuming nutritional imbalance to be the cause, the school has petitioned the Fatherland Front Committee in Can Gio District to provide 1,600 instant noodle packets and a supply of milk as substitute for breakfast, which some very poor students skip everyday.
Dr. Nguyen Thi Anh Tuyet said that so many students fainting en masse may be due to a syndrome among students. To prevent this, school teachers must segregate those students who had fainted from those that hadn't. Parents must also pay greater attention to their diet, learning habits and stress levels.