The Ministry of Education and Training on Friday announced the top 12 educational events of the year.
1. The 11th National Party Congress affirmed that education, training, human resource, science and technology would be given top priority in its national policy.
2. The Politburo of the Central Committee of the Communist Party of Vietnam issued instructions on compulsory education for children from the age of five.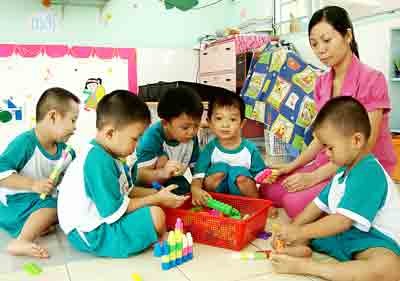 Teacher monitors young pre-school students while they play with toys. Pre-school teachers receive government attention by issuing support policies for teachers ( Photo: SGGP)
3. Education strategy for the period 2011-2020 received people's feedback.
4. The second session of the National Assembly discussed a draft law on higher education which also incorporated ideas from scientists, educationists, and people of all classes.
5. The country tried to push the movement "Build friendly schools and active students".
6. The country strived to rejuvenate education management.
7. The government issued many preferential policies on development of education in disadvantaged districts.
8. Pre-school education received government attention by issuing support policies for teachers.
9. The government decided to apply a senior teacher allowance policy. As per the decision, teachers with five years' experience will be paid an allowance equal to 5 percent of their salary, to increase by 1 percent each additional year.
10. Project 322 in which Vietnamese officials were sent abroad for advanced studies on state funds, trained a large number of high quality lecturers for universities. Since 2000 each year, an average 459 people were sent abroad under the project, which has established partnerships with 832 educational institutions in 34 countries.
11. Vietnamese students win prizes at the International Olympiad contestS.
12. The Ministry of Education and Training increased its checks on the quality and available facilities at educational institutes that work jointly with foreign counterparts. As a result, Vietnam's education watchdog asked 7 schools to suspend enrolments, 7 other schools were penalized for providing poor quality facilities and 4 schools received administrative fines for violating the education law.