Sai Gon Giai Phong Newspaper in coordination with the traditional club of the South Civil Medical Service Agency organized the ceremony to give scholarships to poor but good students of medicine universities in Ho Chi Minh City.

Speaking at the ceremony, after reviewing the country's history including the Reunification Day (April 30), former Health Minister cum chairwoman of the club Assoc Prof Dr. Tran Thi Trung Chien said that along with the country's socio- economic development, the health sector has made substantial progresses thanks to the party and the government's attention to investment in facilities, preventative medicine mission, controlling diseases and vaccination despite so much difficulty in these days after April 30.
Vietnamese physicians have applied advanced techniques including liver, kidney, heart transplants, stent placement surgeries and phacoemulsification cataract surgery.
Moreover, medical workers of big infirmaries were assigned to work in district-level centers to take care of health of residents in disadvantaged areas and islands and border crossings . Additionally, postgraduates are trained to keep pace with their peers in other countries, Ms. Chien said.
Dr. Chien added that all attendees of the ceremony and Vietnamese people should show their gratitude to those who had sacrificed their lives to take care of people's health in the war time, especially members of the the South Civil Medical Service Agency.
Addressing the ceremony, Sai Gon Giai Phong newspaperd deputy Editor-in-Chief Ly Viet Trung said that the scholarship fund started from VND40 million ($1,724 ) contributed by late Health Minister Nguyen Van Huong, now it is more than VND8.5 billion.
At first, the fund organizer had just given 40 scholarships each worth VND1 million – VND2 million but now, 146 students receive scholarships each worth VND8 million – VND30 million. In 21 years, the fund has assisted nearly 1,700 students and physicians in the pursuit of education.
At the ceremony, the organizer gave 146 scholarships totally worth VND1.52 billion to students of both the Medicine University and Pham Ngoc Thach Medicine University in HCMC; 50 annual scholarships each worth VND8 million; 60 full-term scholarships each worth VND8 million supported by Ms. Ta Trung Quac; 20 full-term scholarship each wroth VND8 million granted by Sai Gon Construction Company and 12 full scholarships including eight worth VND240 million and four worth VND100 million granted by Ngoc Minh general medical center.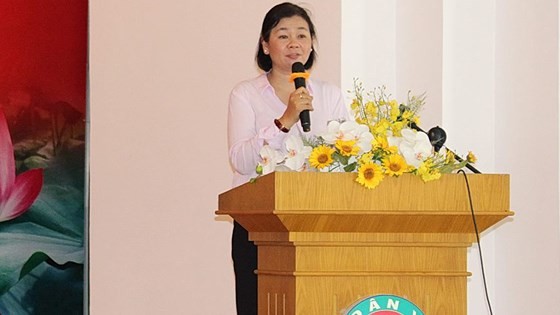 Ms. Ly Viet Trung, deputy editor-in-chief of Sai Gon Giai Phong Newspaper speaks at the ceremony (Photo : SGGP)
Additionally, there was one special scholarship worth VND15 million. Dr. Nguyen Thi Ngoc Dung supported three scholarships each worth VND 25 million. What was more, the scholarship organizer gave VND50 million to the midwife training program of Tu Du Hospital.
As a part of the program, the Ho Chi Minh Communist Youth Union of the city Medicine University organized a ceremony to admit ten young good students into the union.
Ngoc Minh medical center and the newspaper provided free of charge examination, drugs and gifts to 300 locals in Tan Bien Border District, Tay Ninh province.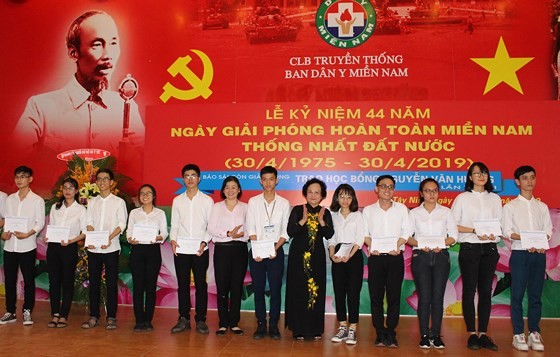 Medicine students receive Nguyen Van Huong scholarship at the ceremony (Photo: SGGP)