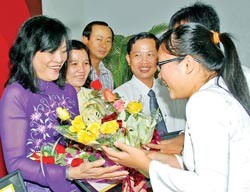 Students congratulates teacher Bui Thi Xuan Hoa in a ceremony to honor excellent teachers in Vinh Long Province in the school year 2008-09. (Photo: SGGP)
The Ho Chi Minh City Department of Training and Education and SGGP named 30 teachers for the 2009-10 Vo Truong Toan Prize for their innovative teaching methods and dedication.
They are from regular schools, continuous education schools, and vocational training and special training units based in the city.
Nguyen Hoang Duyen of Hong Ha Primary School is the youngest at 34 to be named for the prize.
SGGP instituted the Vo Truong Toan Prize in 1998 and it has since become a coveted award for recognizing teachers' dedication.
The awards ceremony will be shown live on television on November 18.