Sai Gon Giai Phong Newspaper has announced ninety Nguyen Van Huong scholarship grants worth VND390 million to students this year.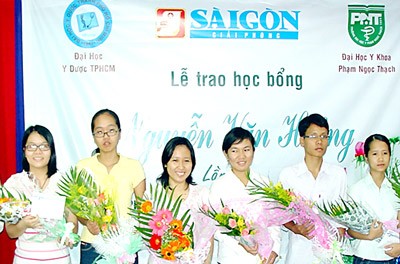 Six medical students will be receive Nguyen Van Huong scholarships.(Photo:SGGP)
SGGP stated this in a press conference at their head office on April 14 to introduce the 13th Nguyen Van Huong scholarship ceremony in Ho Chi Minh City in early June 2011.
Last year, SGGP granted 70 scholarships worth VND200million (US10, 000) to students who had achieved good results.
This year, SGGP plans to grant 30 scholarships worth VND5million each to university students, 20 scholarships worth VND3 million each to high school students of the Pham Ngoc Thach University of Medicine and the Ho Chi Minh City University of Medicine. 
SGGP will also grant 10 scholarships worth VND3million to midwives and 30 scholarships worth VND5million each to medical students of the Tu Du Hospital. Doctor Ta Trung Quac has donated towards the latter.
Attending the press conference were representatives from the HCMC University of Medicine and Pharmacy, Tu Du Cho Ray hospital, Trieu An General Hospital and Zuellig Pharma Vietnam. Doctor Ta Trung Quac along with his family and pharmacist Nguyen Kim Sam were also present as were many other sponsors.
SGGP founded the Nguyen Van Huong Scholarship Fund in 1998.