Schools in Ho Chi Minh City are teaching their students the joys of sharing and caring for the poor, in the spring season of Tet (lunar New Year).
As the lunar New Year approaches the atmosphere in a pre-school of Hoa Mi in district 5 is vibrant with activity as they prepare for their charitable fair. Parents were astonished to learn that products being sold at the fair had been made by their kids with help from teachers.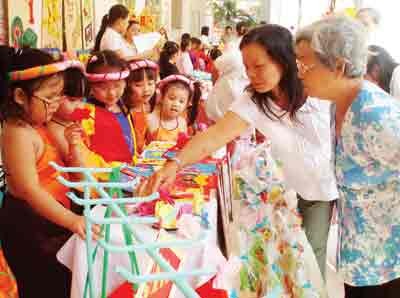 Parents buy these products made by teachers and kids of the pre-school Hoa Mi in district 5 to help disadvantaged children in ward 12, district 5 ( Photo: SGGP)
Yen Tran's father could not understand why his beloved daughter insisted all evening that he bought her picture. He arrived at the pre-school fair very early because he was afraid that the picture made by his daughter would be sold to someone else.
He now understands the reason why she wanted to purchase the picture as she wanted to take the money to help disadvantaged kids to celebrate Tet holidays and also mark the day as a day in which she had done a good deed!
Similarly, five years old Hieu Hanh, told his parents he had contributed to making a paper flower pot and had his name written inside the pot. He insisted that his parents should buy it.
His teacher Nguyen Thi Phuong Nam revealed Hanh was very excited to help teachers make these products when he was told that by selling these products he would be helping a poor person.
Ms. Truc Hoa, parent of a three year old student, shared a beautiful story when she narrated that the last time she had taken her child to buy new clothes for Tet, she was surprised as her kid did not want to buy any clothes for herself but wanted to buy flowers pots and other items made by her and her friends at the fair so that she could help needy children. Ms. Truc Hoa was very moved because her kid had learnt to share and love others in need.
Tang Lang, headmistress of pre-school Hoa Mi, said that the aim of the fair was to help children from low-income families in ward 12 in district 5.
Before the school closed for Tet holidays, teachers and students of the Primary school Luong The Binh in district 1 traveled to Nguyen Dinh Chieu school for the blind and Dormitory Tran Hung Dao. While walking to the dormitory, the teacher told the kids that university students come from towns very far from the city, but they must study here so they have to stay in the dormitory. They are also too poor to buy tickets to return home for Tet. On hearing this many primary students burst into tears.
When visiting the school for the blind, primary students learnt a profound lesson on life.  Ngoc Linh, a fifth grader, said she admired the spirit of the blind in overcoming the difficulties and challenges of life. She found that the tour had helped her to realize that there are many disadvantaged people in the world who needed love and care from others, as these blind people did.
The tour not only helped the poor and needy to enjoy a happy Tet in the city but it also gave an opportunity to both students and teachers of primary school Luong The Vinh to understand more deeply the advantages of sharing.