Vietnam had targeted 60 percent disabled children to have access to education by 2015, in a project approved by the Prime Minister in 2012, but lack of adequate facilities has put the project in jeopardy.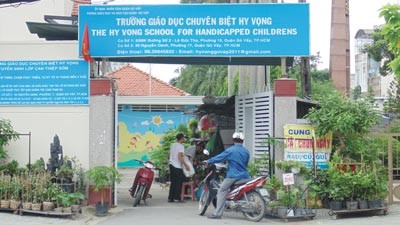 The gate of Hy Vong School in Go Vap District is hidden from sight by decorative plant shops (Photo:SGGP)
Speaking at a meeting to review academic year 2012-2013 for students with disabilities, Nguyen Thi Van Anh, Deputy Head of the Standing Board for Education of People with Disabilities of HCMC, said the City has 28 special schools for more than 2,700 students.
Of which, many facilities in Districts 5, Cu Chi and Can Gio are in disrepair while others are houses converted into schools which lack play yards and study space.

Some schools have to share space with next door neighbors, such as Hy Vong School in Go Vap District, whose school gate is hidden from sight by decorative plant shops.
Similarly, Niem Tin School in Phu Nhuan District is in the shadow of a two meter wide alley and was converted from an old two floor house and lacks a playground.

While demand of parents who have disabled children is increasing, special schools are declining.
Accordingly, parents must work together to open private schools for their own children and others.

A headmaster of a special school complained the school faces risk of shutting down in the long run without government support as maintenance and overheads are huge.

Tran Thi Hong Van, Headmistress of Rang Dong School in Binh Chanh District,HCMC said due to lack of space, children with different kinds of disabilities are all placed in one class, which takes away focus from quality teaching.

This year, school leaders have divided students into three classes, one for mentally retarded children, one for deaf and dumb neonates, and one for hearing-impaired kids, Van said.

Nguyen Thanh Tam, Director of Integrated Education Support Center for Disabled People in Ho Chi Minh City, said in principle every class trains in one kind of disability to achieve best results. However, there is a severe shortage of special schools for kids with disabilities; hence schools have to accept all the students in just one class.

This is a serious challenge for education leaders to overcome, especially when it comes to choosing between quality and quantity.