The Ho Chi Minh City People's Committee held a meeting yesterday to discuss urgent issues concerning the next academic year 2011-2012, especially in terms of shortage of qualified teachers and classroom facilities.
Lack of classrooms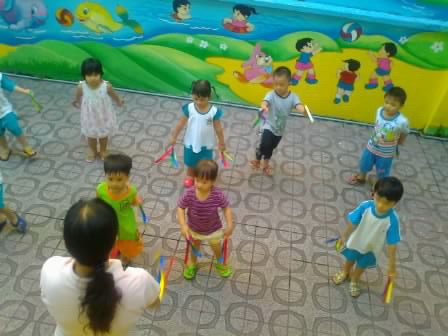 A compulsory education program for 5-year-old children meets setbacks with lack of classrooms (Photo: U.Phuong)

Despite the urgent need to upgrade the quality of education, due to lack of capital the city is unable to provide enough classrooms for the next academic year.
According to regulations, every primary school can have only 30 classes with a maximum of 35 pupils in each. In reality, this regulation is ignored and more than 50 pupils are normally stuffed into one class. Some very remote areas also have no primary school at all.
Dang Thanh Tuan, Head of the Go Vap district Education and Training Office said 12 school building projects in the district had to be shelved because the People's Committee had failed to allocate funds this year. Currently, the district requires 484 classrooms to meet its demand.
Tran Trong Tuan, Chairman of the Binh Chanh People's Committee, says the current three high schools in the district will not be able to fulfill the future demands.
Many present in the meeting expressed concern over the new approved program of compulsory education for children five years of age, a task seemingly difficult to accomplish under the present circumstances.
"With only 17 kindergartens, even three-year-old children have to learn in classes of 46 pupils each. At the moment most are attending private schools to fulfill the requirements of the government. Local governments have introduced temporary solutions to build schools with loans from the stimulus package.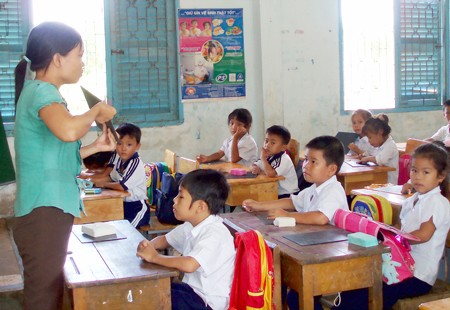 Pupils and the teacher in a classroom at a primary school in Ho Chi Minh City (Photo: SGGP)

Actually, some projects have already started this way and are asking for help from parents. However, not all are willing to contribute VND100, 000-160,000 per month (approx. US$4.85-7.77)." said Phan Thi Phuong, Head of District 6 Education and Training Office.
According to Hua Ngoc Thuan, Vice Chairman of the HCMC People's Committee, local governments are encouraging the building of kindergartens in the 12 industrial and export processing zones to comply with the compulsory education program for 5-year-old children. The Committee has approved a capital fund of VND5, 000 billion ($2,427 million) for the next academic year.
Lack of teachers
Lack of qualified teachers is another critical issue that needs addressing immediately. This year, Go Vap District alone needs more than 1,000 teachers, said Tuan.
Dr. Dinh Phuong Duy, Vice Principal of the HCMC Training School, blamed the low pay scale, especially of kindergarten teachers, for lack of teachers coming for the job. Agreeing with him, Dr. Vo Van Sen, Principal of the University of Social Sciences and Humanities, pointed out that as long as there was a lack of teachers, education in Vietnam could never improve.
Moreover, the employment process is so simple that the current lot of teachers are under-qualified and need immediate retraining, which places another burden on the education system.
However, Le Hong Son, Deputy Director of the HCMC Education and Training Department countered the argument by saying that it was unfair to comment on the regular education staff. He guaranteed that all districts of the city had sufficient teachers for the next academic year. Besides, the employment criteria were based mostly on applicants' learning process.
The last issue discussed was the imbalanced learning process at the moment. With alarming rates of thousands of students getting zero-marks in History in the recent university entrance exam, Son reasoned that because History was not a subject in the high school graduation exam, most students neglected it for more important subjects.
Nguyen Thi Quyet Tam, Chairwoman of the HCMC People's Committee, proposed that Vietnam should provide comprehensive education instead of focusing solely on subjects existing in examinations. A short-term solution for History would be an effort to use more pictures and videos to teach, in order to make it more visually interesting for learners.