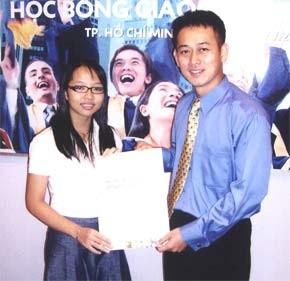 Mr. Darren Oh presents a scholarship to Ha Pham Doan Trang. (Photo: Tuong Thuy)
The Singapore Tourism Board has awarded three US$10,000 scholarships for Vietnamese students to pursue higher eductaion in Singapore.
Mr. Darren Oh, Indochina Director of the Singapore Tourism Board, presented the scholarships at a ceremony at the government-backed organization's Ho Chi Minh City Office. 
Two of the scholars, Ho Chi Minh City's Ha Pham Doan Trang and Huynh Kim Phong, will put their scholarships towards Public Relations and Journalism BA programs at Nanyang Technological University (NTU) respectively, while Hanoi's Nguyen Thi Thu Hanh will take a BA in Economics at the National University of Singapore (NUS).
"We are deeply impressed by the three winners' 'can-do' attitude, confidence, willpower, and  determination to go the extra mile," said Mr. Oh. "I am sure that they will achieve their goals and become successful journalists, economists and communication experts in the near future."
Scholarship winner Phong took first place in a Ho Chi Minh City 12th-grade English contest held by Sai Gon Giai Phong newspaper in April 2006.
Each scholarship being worth US$10,000, Mr. Oh said his board carefully selected the scholars out of dozens of applications from throughout Vietnam.
From May 1 to May 31, 2006, the agency received 44 applications from 12th graders and first-year university students accepted at the three Singapore public universities, namely NUS, NTU and Singapore Management University (SMU). Selection was based on academic results, personal aspiration, social activities and leadership. Nine applicants were short-listed and then took part in personal interviews, the final step of the selection process.
The scholarships are unique in the that there is no obligation for the scholars to work in Singapore after finishing universitiy, which is a common binding pre-requisite for many scholarship programs.
The Singapore Tourism Board is a Singapore Government-backed economic development agency for Singapore's key service sectors such as tourism, education and health care.