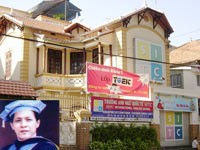 Michael Yu (small picture) and the SITC campus in Ho Chi Minh City. (Photo: Tuong Chau)
Michael Yu, CEO of the Singapore International Training Consultancy (SITC) was arrested at the airport in Taiwan , said the police on February 23.

He had used a fake passport and false name in order to enter Taiwan from Bangkok, Thailand.
He was, however, detected and arrested because he has been wanted by the police of Taiwan territory for seven years. The arrest of Michael Yu is a result of the cooperation between the police of Viet Nam and Taiwan territory.
Viet Nam-based SITC started its operation in March, 2003 under the management of Michael Yu.Yu fled Viet Nam early January, just before SITC's 14 English-language centers and five senior management training schools in nine cities and provinces closed down.
The school owes some VND10 billion (US$629,000) to its 30,000 students and 1,000 employees.
Related Articles:
Prosecution for SITC's Fraud Starts
SITC Holdings Disappears
SITC Problem Solved Diplomatically
Over 24 Language Training Centers Assist SITC Students
Singaporean Embassy Promises to Help SITC Victims
Serious Violations of SITC Reported