Despite various efforts, the Mekong Delta still faces problems in improving education and human resource quality. To help tackle the problems the deputy head of the Steering Board for Vietnam South Western, Luu Phuoc Luong, has recommended four solutions.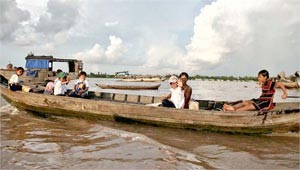 Students going to school on a boat, as they live in an area vulnerable to flooding in southern An Giang Province (Photo: SGGP)
After three years of implementing Decision 20/2006 by the Prime Minister, the Mekong Delta has gained some good performances in the field of education, he said.
 
The scale of education and the qualifications of teachers in the region have improved since 2005-2006, he said.
 
It now has 11 universities, two more than before, and 27 colleges, eight more than previous.
 
It also boosted the number of vocational high schools to 28, with have 52 affiliates, he said.
 
However, due to some weaknesses and problems, the region's education and training has yet to meet the needs of its development, he commented.
 
The proportion of students going to school in accordance with school-age standards is just 43 percent, and the rate of trained workers was only 17.24 percent of the total labor force, he said.
 
The region has 85 university students per 10,000 people, too low compared with the standard of 150 per 10,000, he said, adding that the rate of students dropping out of schools was up to 3.1 percent, far higher than the country's average of 1.37 percent.      
 
Mr Luong blamed the situation on weak education planning and management, improper vocational training policies, poor educational infrastructure, insufficient information about labor markets and loose coordination between schools and labor recruiters.
 
To help tackle the problems, he recommended four solutions as follows:
 
First, it is necessary to set up a program for human resource development for the next ten years with a vision for 2020 and carry out it next year.
 
That program should set forth specific goals and measures for education development. It should call for more from the State's budget investment in the region and be a priority to access it, as well as using overseas development aid.
 
Secondly, a specific policy on education and vocational training for the region must be mapped out, in which the Government should pay 100 percent, instead of 50 percent as present, of the expenses for compensation to people whose land is acquired by construction projects for the education sector.
 
The policy should also include improving working environments, restoring and promoting traditional trade villages with high economic efficiency, and applying advanced technologies in rural areas.
 
Third, the construction of a new university to international standards in the region must be stepped up; the Can Tho University and An Giang University should be developed into key national ones; and two vocational schools by ASEAN standards and a center for human resources information and forecasting should be built.
 
Last, it is a must to strengthen cooperation between Mekong Delta provinces and ministries and Ho Chi Minh City to increase investment in education in the region, perfecting its education and training system, and creating conditions for businesses to take part in programs on education, vocational training and human resource development.