Some 58 special examinees will participate in the university entrance examinations into the Vietnam National University - Ho Chi Minh City.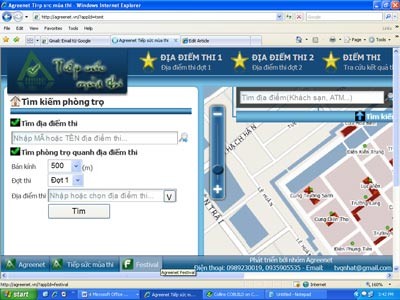 Hue students and lecturers design a website about street maps to help examinees to find lodgings, test facilities and public places
They are 51 foreign students and seven blind persons, an increase of four candidates compared to last year. The 51 foreigners will have their Vietnamese language skills tested.
If they fail, they will not have opportunity to take any further tests and will have the opportunity to try again next year.
Of seven sightless high school graduates, six registered to take Option C (literature, history and geography) and one choose Option A (math, chemistry and physics).
These special examinees will test in a separate room equipped with Braille.  Afterwards, the examination organizing board will hire Braille experts to interpret the results.
Examination organizing boards of Vietnam National University Ho Chi Minh City, Nong Lam University (University of Agricultural Engineering), Pedagogy University provided training to supervisors on test-taking tricks used by candidates in the past. Organizers reminded overseers, many of whom are senior university students, about the regulations pertaining to their duties.
To help students in the coming tests, Phuong Trang Coach Company promised to reduce test costs by 50 percent for examinees and to provide free tickets for those who come from disadvantaged families, pending confirmation by local government documents.
Hue University said it has launched online maps with detailed street maps on the website: http://tiepsucmuathi.agreenet.vn/. The website designed by IT lecturers and students aims to help newcomers to Hue City to find lodging, test facilities and public places like ATM machines, internet shops, supermarkets and bookstores.
Volunteers of the program Giving Strength in the Exam Season continued their assignments at bus and train stations in the Mekong Delta City of Can Tho, the southern province of An Giang and the central province of Binh Dinh. They welcomed examinees with maps, transportation and helped examinees and their families obtain suitable lodging, even searching out cheap rented houses for those on tight budgets.