Public indignation grows after a three minute video clip about the nursemaids' wicked acts to autistic students was released.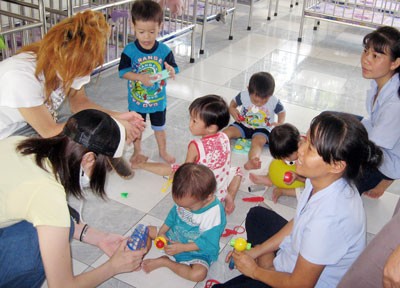 Autistic children will integrate into society if they are taught well (PHoto; SGGP)
The video clip showed the illegal private school's staff of the "Anh Vuong Special Primary School" in Ho Chi Minh City's Tan Binh District torturing and beating its autistic students including beating autistic students with wooden piece and clothes-hangers.
Many people wondered why an illegal school have been operating over five years?

After that, the city's Department of Education and Training ordered to end the school's operation. 27 students at the Anh Vuong School have been taken home by their families.
The parents said that they don't know where to send their kids. A mother complained she had searched many schools but there is as little as choice for autistic children.

According to the Department of Education and Training, the city has 25 facilities for autistic children where receive more than 27,000 disabled children nationwide. Worse, some of schools are in poor repair without playing yards and special rooms for physical therapy treatment resulting in poor teaching and learning quality.

A teacher of a special school in Phu Nhuan District said that in fact autistic children should study in normal schools to help them to integrate into other children. However, in reality, most primary schools refuse to get autistic students.
Consequently, special schools for autistic children are overloaded.

Le Thai Minh Hau, principal of Tran Quoc Toan Primary School in District 5, the only school welcome autistic students, said that he is determined to receive special students despite of outcry of parents.

The project to help disabled people approved by the Prime Minister on August 5, 2012 pointed out that for the first phase, at least 60 percent of disabled children must access to education.
It seemed that the project's target is difficult to finish. Education authority should act quickly to bring unlucky children to education and integration opportunity.