School authorities in Nguyen Van Phu secondary high school in District 11 along with the parents association have renovated the toilet facilities for students before the start of the 2011-2012 school year.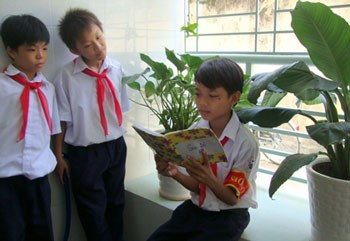 Students of Nguyen Van Phu secondary school reading books in the waiting area of the restroom. (Photo: Sggp)
"The toilets were filthy before. I never used the school restroom even once during my 5 hour study session and only used the toilet when I came back home", said  Ngai Van Minh, an eighth grade student of Nguyen Van Phu secondary high school. "But now the toilets have been nicely renovated and do not stink. I can even read a book in the waiting area which has fresh air and greenery surrounding it. There is also music playing here all the time"!
Five areas of the restrooms have nice images on the walls and equipped with lavabos, anti-bacterial soap, tissues and flowers.
Clean and nice restrooms at the school were a possibility only by the generous financial help from the parents association. Most of the parents were worried when their child did not use the toilet in school for hours, just because it was damp and stank.
The district government spent from its budget to build the basic infrastructure, while the parents association helped raise funds for equipment, management and daily sanitation activities, said Ms. Truong Thu Thuy, principal of the school.
This academic year, local authorities have invested around VND3 billion (US$142,000) and joined hands with parents associations to build standard quality restrooms at Trung Trac and Lac Long Quan primary schools and at the Chu Van An secondary school.