State President Truong Tan Sang has extended greetings to all education managers, teachers, students and pupils across the country on the threshold of the 2011-2012 school year.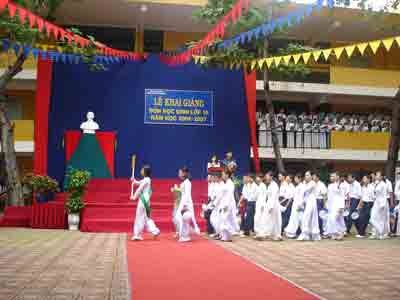 The new academic  year opening ceremony at Nguyen Thuong Hien high school in Ho Chi Minh City (Photo: U.Phuong)
In his letter, the State President warmly praised the education sector for its efforts and achievements in the last academic year, especially outstanding units, individuals and teachers who have been devoted to their jobs as well as poor pupils in remote, isolate, border and island areas who have overcome all difficulties to reap good results in study.
President Sang stressed that the 2011-2012 school year is of very important significance as it is the first year of implementing the 11th National Party Congress's Resolution.
To develop talented human resources for the country, the State leader urged the sector to conduct comprehensive reform, improve the qualifications of teachers and education managers, and renovate the contents, curriculum and teaching-learning methods at all educational levels.
Special attention must be paid to educating national history, morality, lifestyle, sense of social responsibility, creativity capacity and practice skills for students and pupils, he said.
The State leader also urged the sector to mobilise different resources for education development, particularly in remote, isolate, border, island and ethnic minority-inhabited areas.
President Sang expressed his belief that pupils and students would continue to uphold the national tradition of studiousness to gain greater achievements in study and scientific research.