As the annual high school graduation exams approach, overstressed students and their parents now have one more anxiety to face – an overabundance of exam-preparation books to choose from.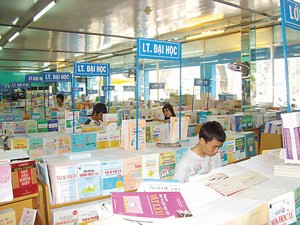 Study guides for Vietnam's annual graduation exams have flooded local bookstores, leaving most students and parents at a loss of which, if any, to purchase. (Photo: Thanh Hung)
Study guides are proving to be big business for local publishers looking to capitalize on students' desire to gain every advantage possible to perform well on the all-important exams.
But most teens are overwhelmed by the hundreds of titles now flooding local bookstores, not knowing which ones will prove truly helpful.
Frustration over misleading titles
Immediately after the Ministry of Education announced this year's exam topics, the local market was flooded with a veritable labyrinth of preparation guides for exam-takers. But rather than helping students, many of the books have instead proved to be a waste of time and money.
Parent Huynh Thanh Ba from Ho Chi Minh City's District 10 said he recently purchased a book for his child titled "Graduation Exam Review and 2010 University-College Applications" by the City University Teachers Publisher.
"[Believing] that the book covered all necessary content for the 2010 exams, I bought it for my child's reference," said Mr. Ba. "But when I got home and opened the book, there was nothing [helpful]. It only contained exam questions and solutions from past years."
SGGP reporters looked through three exam guides Mr. Ba had purchased for his child. The content of each included information about the structure of the exams; questions and answers of past tests; and supplementary university and college information. None of the books contained information on how to better understand the subject material, however, which is what Mr. Ba believed would be included.
At HCMC's Nguyen Van Cu book store in District 1, reporters counted around 10-12 sets each of grade 12 geography literature, history, math, and chemistry exam review books and drills. Many of the book covers advertised quick and easy study methods, "crash course" material, or the latest information concerning the 2010 exams as compiled by the Ministry of Education.
Teachers say they too are perplexed by the maze of exam review guides and are unable to distinguish authentic, quality books from the rest. In addition, some books are virtually identical except for a few small details.
For instance, two history review books with different covers are listed as having the same author (NL), the same publisher, the same content, and even have the same grammatical errors. The only difference is that one of the books has the line: "Compiled according to the new program of the Ministry of Education," while the other does not.
To buy or not to buy
Mr. Pham Hong Hai, former head of the Mathematics Department at Bui Thi Xuan high school in HCMC's District 1, said that students are encouraged to seek out more resources to enhance their learning, but need to be cautious about which guides they use.
Except for a few reputable sources such as the Publisher of Education or the Ministry of Education, the market is flooded with unsanctioned books. "The Ministry of Education is the only official authority] on guidelines regarding exam questions and structure. In my opinion, students should focus more on learning [original] textbook content well," said Mr. Hai.
Ms. Bao Linh, a geography teacher at Ly Tu Trong high school in HCMC's Tan Binh District agreed with Mr. Hai. "As we count down to the graduation exams, teachers and students are redoubling their efforts. If students get carried away with reference books sold in the market, they could become very confused, and their efforts may even be counterproductive."
A director of a study center in HCMC said, "The reference books and exam review guides flooding the market all look the same so it is also difficult to distinguish between authentic and fake copies. I have co-written and published several math exam guides. However, I discovered that many other study centers had photocopied our books. Some asked us first, but other did not. I have even discovered my name printed on many drill books that I haven't actually written."
Ministry doesn't endorse specific guides
On April 8, at a regular press conference of the Ministry of Education, Mr. Vu Dinh Chuan, director of the Department of Secondary Education under the Ministry of Education, said the department does not endorse any specific organization or author's exam study guides.
Mr. Chuan said that students and parents should be discerning and use good judgment when opting to purchase study guides. Moreover, the books do not cover the entire breadth of exam questions that may appear on the actual tests.
He added that the Department of Secondary Education does not participate in creating the exams, but that the Ministry of Education conducts reviews of the new exams yearly and verifies their quality.