The education ministry is drafting a decree on new tuition fees and will submit it to the Government next week for approval, Deputy Prime Minister and Minister of Education and Training Nguyen Thien Nhan has said.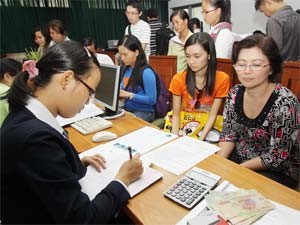 Students and their parents pay tuition fees at the Hoa Sen University in HCMC. The Ministry of Education and Training will submit a new tuition fee system to the Government next week.  (Photo: Tuoi Tre)
He was speaking at a meeting held in Hai Phong City December 5 with representatives of the Education and Training Departments of Hanoi, Hai Phong, Da Nang, Ho Chi Minh City and Can Tho.
The meeting focused on the new tuition fee system and the problem of student drop-outs in these cities.
Under the ministry's plan, the new tuition fees applied from the 2010-11 school year for preschools, junior and senior high schools in the five cities will be based on residents' average income.
The highest rates will be VND200,000 (US$10.8) per month for HCM City students, VND120,000 for Hanoi students, VND90,000 for Da Nang students, VND75,000 for Can Tho students, and VND60,000 for those in Hai Phong.
Regarding the issue of drop-outs, Do The Hung, director of the Hai Phong City Education and Training Department, reported that about 5,800 students have quit school since the beginning of the academic year.
Hanoi topped the list with 1,150 students giving up their studies, while Da Nang has had the lowest number, 249.
Reasons for dropping out varied, including poor grades, difficulty traveling to school, poverty, and peer pressure, Mr. Hung said.
Deputy Prime Minister Nguyen Thien Nhan asked the five cities to curb the number of drop outs in the years to come and work to alleviate poverty as a reason for students quitting school.