Hundreds of youngsters were honored at the "National Thousand Good Things Students Festival" held by the Ho Chi Minh Communist Youth Union in Hanoi and the northern province of Bac Ninh from August 15 to 17.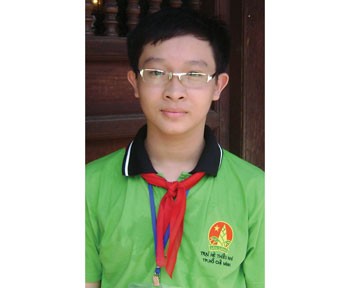 Brave HCMC 8th grade student Nguyen Hue who saved his 80-year-old neighbor from a fire
Duong Hieu Trung, an eighth grade student from HCMC's District 4, saved his neighbor, an 80-year old woman from a fire.
The brave boy earlier received the "Uncle Ho's Good Children" award five years ago and won a silver medal at taekwondo at 2004-05 Phu Dong Sport Festival held in the city.
A Byưh and A Trâm are both seventh grade students at the YaChim secondary school in the central province of Kon Tum and close friends.
A Bưhn has been carrying A Trâm, who has paralyzed feet, on his back to school for the last five years.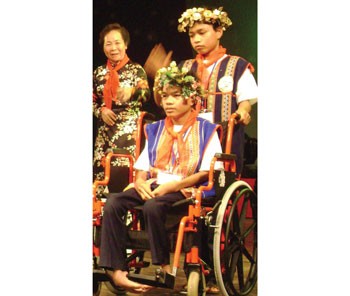 A Byưh of YaChim secondary school in the central province of Kon Tum who carries his friend A Trâm (in wheelchair) to school daily
The two have never missed a class and have received a letter from President Nguyen Minh Triet.

"I am really moved to know that A Byưh carries A Trâm on his back to school every day. I wish to praise A Byưh's kind act and A Trâm's efforts to overcome difficulties and pursue studies. Your friendship is an example for all students in the country," the letter said.
Le Ngoc Gia Bao, a sixth grade student in Hanoi's Gia Lam District, handed over to the School authorities a bag containing US$1,500, three credit cards, a gold chain, documents and a large amount of dong that he found on the street.
Ms. Hien, the owner of the bag, in turn helped him repay his family's debts and get his mother treated in hospital.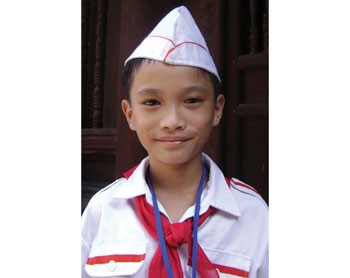 Le Ngoc Gia Bao, a Hanoi sixth grade student who returned a bag containing a large sum of money he found on the street to its owner
The festival honored more than 200 students who follow five rules propounded by Uncle Ho and strive to become good children.
The festival also featured many other activities like a thurification at the Bac Son Revolutionary Martyrs Monument in Hanoi, visiting Hoa Binh village and presenting gifts to disabled children there, a groundbreaking ceremony for the Thousand Good Things Park and celebration of the 45th anniversary of the Thousands of Good Things Movement.