School students in many Mekong Delta provinces will start the new school year in the beginning of August. This is a month earlier than the rest of the country due to the increasingly bad affects of storms and floods.

The new academic year for the country starts September 5.

The new starting date for the region is a precautionary measure to ensure that local students will not miss any classes in case of natural disasters occurring in the region.

In An Giang Province on Monday, around 40,000 high-school students went back to school after the summer vacation.

The director of the province's Department of Education and Training, Nguyen Thanh Binh, said that the students will officially begin their studies on August 10. The first week is to review what they had previously learnt.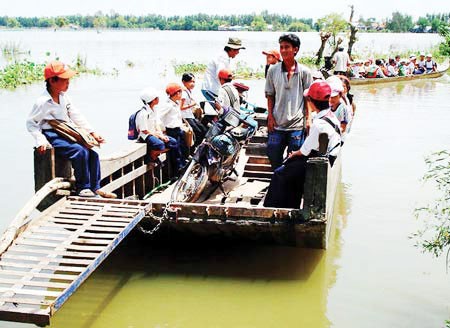 Students in Chau Phu, a district frequently affected by floods, on their way to school (Photo:SGGP)
He announced that An Giang has sufficient teachers and classrooms for the school year. There will also be enough teaching aids for teachers and textbooks for all students.

As a measure to cope with the recent outbreaks of swine flu, which may affect provinces in the delta in the coming future, Mr. Binh said that all the schools in the province have set up units that are responsible for preventing and fighting the epidemic.

The units, said Mr. Binh, are in charge of arranging isolation areas available for infected students, if any, and taking necessary measures to prevent the epidemic from spreading among students in schools.

In Kien Giang Province, deputy director of Department of Education and Training Ninh Thanh Vien, announced that the province has enough facilities, with most newly built or repaired schools ready for this year's intake. More teachers have also been transferred to remote areas to fill all vacancies.

In Dong Thap Province, more than 1.300 trainee teachers have been assigned teaching tasks in schools throughout the province and some 420 teachers transferred to schools in remote areas. At present, Tam Nong and Thap Muoi districts are lacking elementary school teachers.

Over 280 newly built schools will replace downgraded semi-concrete and makeshift schools.

Since the repair of 30 classrooms of Hong Ngu High School 2 in Phu Thuan A Commune, Hong Ngu District, is behind schedule, the school's twelfth-graders will study in borrowed classrooms in other schools.

In Hau Giang Province, 142,000 high school students, elementary and kindergarten pupils will go back to their schools on August 17. At present, 160 high school teachers are still needed throughout the province.

This school year, students and pupils in Hau Giang do not have to study in thatched –roof classrooms thanks to newly- built concrete schools, but more than 700 old classrooms have been downgraded and need repairing.