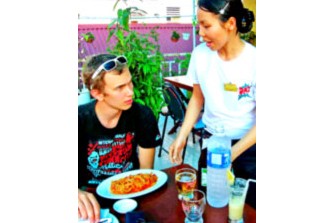 Ngoc Anh talks to a foreign customer at her working place. (Photo: SGGP)

Some students go to foreign language training centers when they need their language skills improved. Others find jobs in backpacker districts, which not only help their speaking improved but help them financially.
"My speaking skills have improved a lot since I began working at backpacker district and I have been able to make a living without my parents' support," Dau Anh Thu, a souvenir shop assistant in Hue said.
Tran Thi Mai Huong said that she tried to improve her English through several books and documents but failed to make any progress. Her speaking has become more fluent after just one month working at Ngoc Anh restaurant.
Even some students who knew no English are able to talk to foreigners confidently after working here for sometime.
"It was hard for me to find a job in backpacker district because I didn't know a single foreign word. Finally, a restaurant recruited me as a waitress," Hoang Thi Tuyet recounted.
"My English restaurant vocabulary is great now and I feel more confident as I have to talk to foreigners everyday," she said happily.
"The students' eagerness in studying foreign languages has persuaded me to recruit even people speak no English" said Thu, Ngoc Anh restaurant's owner, adding that they have made an obvious improvement through their jobs.
"I've learnt a lot from real circumstances," said Ngoc Anh, a junior of Hue Foreign Languages University's Faculty of Chinese and Japanese.
"What I was taught at school sometimes is not really attached to reality. For example, I didn't know tomato sauce is ketchup until a customer told me," she added.
She also revealed that she recorded every conversation with customers and listened to them again to practice speaking.
"I've made an incredible advance in communicating with foreigners," she proudly said.