This year on June 2, a total of 963,571 students from across the country will sit for their high school graduation examination, presenting a year-on-year decrease of 8.5 percent.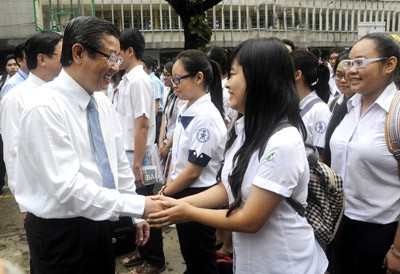 Vice Chairman of HCM City People's Committee, Hua Ngoc Thuan (L) meets students at Tran Dai Nghia exam board. (Photo: SGGP)
Students will appear for their final exam in literature and chemistry on the first day, followed by subjects like geography, history, mathematics and foreign languages. Students usually have a choice from foreign languages like English, Russian, French, Chinese, German and Japanese.
Ho Chi Minh City has a total of 66,316 students with 3,630 examination room centres and an inspection board comprising of 300 people, who work as invigilators for the exams.
According to the HCMC Department of Education and Training, the examination board is very well prepared and ensures for safety in every way during the high school graduation examination.