Hundreds of students of Melior Business School in Ho Chi Minh City gathered in front of the school on November 12 and 13 to ask the school management to return their tuition fees, but had to turn back as the school shut its doors and its director having decamped.
Cheng Sim Kok, director of Melior School and a Singaporean national has apparently fled, leaving hundreds of students and parents in the lurch.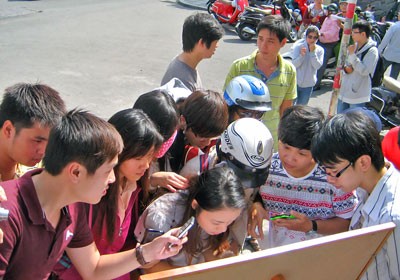 Students and parents gather in front of the Melior School on November 12 (Photo: SGGP)
On November 10, Melior School on 97 Nguyen Van Troi Street in Phu Nhuan District informed students that it would stop operations and would reimburse tuition fees two days later, on November 12.
But on November 12, students could not enter the school as it was barred by the Ha Liem Company, owners of the building rented by the school.
Some students and parents accused the school of intentionally cheating them. They were left with no choice but to file a complaint with related agencies and the Department of Labor, Invalids and Social Affairs, who had issued certificates to the school.
Currently, representatives of the Ministry of Education and Training in the South are listening to the complaints.
Students and parents said tuition fees for a three-month course in English language ranged from US$900-$2,000. To avail a discount, students paid the whole package from $4,500 to $13,000. Some students studied two semesters and others have already graduated and are awaiting degrees.
According to complaints filed by the students and parents, the Singaporean director of Melior School had assured them that the rumor about closure was wrong and had urged students to pay their tuition fees. But when students gathered to collect back their fees, he suddenly decamped.
Some students were so worried that they asked to withdraw from their class and take back their money, to which the school refused. Student Tran Hoang said, "I registered to study Business Management and paid VND10 million ($480), but when I heard that the school is not providing a four year training, I asked for reimbursement of my fees, which the school refused."
All the school staff and foreign lecturers were surprised at the news that the director had fled and that the tuition fees of hundreds of students had not been returned or salaries of staff paid either. 
In a report to the Department of Labor, Invalids and Social Affairs (DoLISA), Melior School said it will reimburse the tuition fees for 29 students and continue training for the rest in Vietnam or send them to Singapore for further study. However, the 29 students are very bitter about the decision as the school's bank account is showing nil.
Nguyen Thanh Hiep, head of the Vocational Training Division of DoLISA, sent a document to the City People's Committee asking for urgent guidance to protect students' rights. The City has asked to freeze the Melior Vietnam Company's bank account and ban Cheng Sim Kok from leaving Vietnam.
Although the ministry has fined the school VND80 million for illegal training operations, the school continues to advertise for enrollment and collect fees. Related agencies ought to have conducted a thorough investigation of the school and paid regular visits to check on the school, to protect students' rights.
Students and parents at another Singaporean school in the district, ERC Institute Vietnam, are very worried as the school was fined for offering undergraduate and graduate courses without any permit by the Ministry, who proposed to the People's Committee to revoke their permit.
ERC Institute was just allowed to run short-term vocational programs (for less than a year), but they enrolled hundreds of students in unlicensed undergraduate, graduate, and doctoral programs that last longer than a year.