Prime Minister Nguyen Tan Dung September 15 attended the openning ceremony of new academic year at Vietnam National University in Hanoi.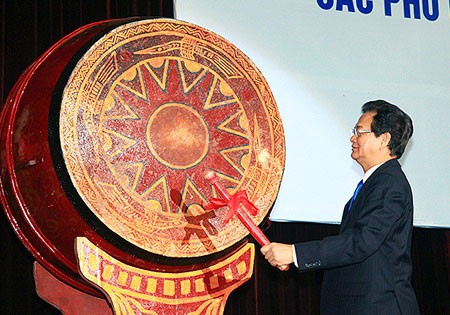 The PM beats the drum to start the new academic school year (Photo: SGGP)
Speaking at the ceremony, Prime Minister Nguyen Tan Dung said that the new school year has important role in carrying out the Central Committee of the Communist Party of Vietnam's decree No.20 and 29 on Science and Technology development and Education and Training reform.
The Vietnam Nation University has been training qualified human resource for the country, contributing to finishing socioeconomic growth plant in the period 2011-2015 to give impetus to the five year plan from 2016 to 2020.
The Prime Minister pointed out five missions that the University and other colleges, universities in the country have to do including reform of management, curriculum, textbooks, teaching methods, scientific researches, technology transferring, training more qualified lecturers and updating facilities.
The Hanoi-based Vietnam Nation University was ranked into 161 best universities in the Asia by the QS World University Rankings. The university is one of 100 top universities in the Asia in the fields of natural science, social and management science; and technology and technique
Lately, the government decided to establish Viet-Nhat (Vietnam – Japan) University to facilitate academic and advanced technology exchange. The Viet-Nhat University is hoped to give incentive to staffs of Vietnam Nation University in the integration procedures with international ones.
The Vietnam Nation University should change textbooks, curriculum and teaching methods to provide qualified students to the society who can meet the demand of work in the industrialization. Scientific researches should be connected with reality with enterprises' demand.
The Prime Minister said that the government was finishing policies that help  universities attract domestic and international qualified lecturers to work in the universities to improve teaching and learning.
Mr. Dung stressed that the country's general target of education is to training good citizens who have good behaviors and manners; accordingly he wanted lecturers should pay attention to train students' personality and lifestyle.
He expected that students should study hard for themselves , for their families and for the country.