On the first day of the second session of national university entrance exams, 623,749 out of the expected number of 700,000 students had attended, the Ministry of Education and Training said July 9.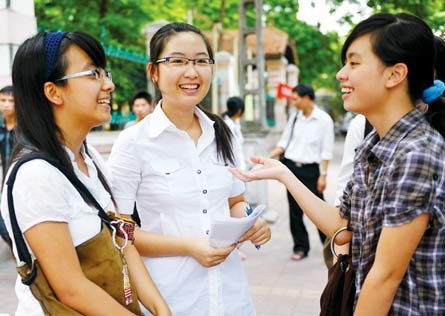 Students in HCMC relax after the exam (Photo: SGGP)
On July 10, students will continue the second day of the session.
Sixty students were suspended from the exams, for either bringing cell phones or smuggling in revision notes into the examination room. 
Four invigilators also got into trouble for starting the exams too soon, or ran over time.
One invigilator has been suspended for work while on duty.
Hanoi puts CCTV in exam rooms
According to reports in Hanoi, this exam session was more carefully prepared than the first session.
The Institute of Newspaper and Propaganda put cameras in each room to follow the students.
Prof. Nguyen Hoa, principle of the University of Foreign Languages said that his university has prepared over 1,000 face masks and arranged for doctors to prevent a possible outbreak of A/H1N1 flu.
HCMC records large number of violations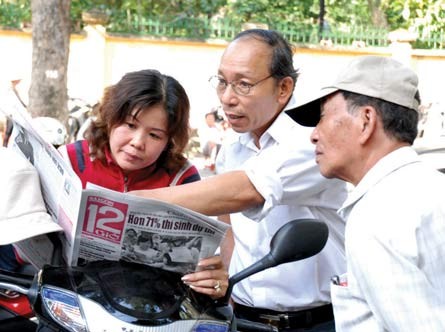 Students' parents read answers to an exam paper in SGGP 12 Gio on July 9 (Photo: SGGP)
The first day of the second session saw a number of invigilators suspended for exam infringements.
Two invigilators were suspended, with one leaving the room without approval and another bringing a cell phone into the exam room.
Another two invigilators were suspended for falling asleep while on duty.
Exam stress led to one student from Binh Chanh District reportedly breaking down after completing the literature exam on literature, and ran hysterically into the school yard.

In an unfortunate case, a student from the central province of Nghe An was hit by a motorcycle after completing the literature exam in the morning. Doctors tried their best to help her return to sit exams in the afternoon.
Heat takes its toll
The weather in Thua Thien - Hue on July 9 was very hot and muggy, with temperatures rising to 37 degrees Celsius, leading to numerous cases of heat exhaustion.
A male student in Hue City was rushed to hospital during the literature exam. Doctors said he had a heart disease.
In Quy Nhon town, in the central province of Binh Dinh, one student also received emergency aid after a heart attack in the morning.
In Can Tho City, three students lost consciousness due to hypocalcemia.