The 'Semester In Arms' is a summer holiday  training course for junior and secondary students, and gives them real life experiences of being sailors. SGGP followed some students for the day.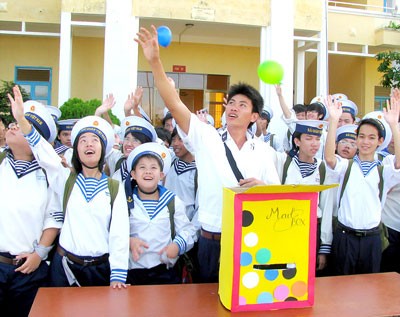 Special young sailors end their training course and return to mainland (photo ; SGGP)
The course teaches children how to fold blankets, arrange clothes in bags correctly, how to make a washing line, learn the history of the navy, navigation and reading nautical charts, military geography of the Southwest Sea and swimming skills.
After a long time at sea and traveling overland for 400 kilometers, junior and secondary students smiled happily, despite tiredness, after completing their trip.
The youngest sailor, Truong Thien Thanh, fifth grader of Pham Hong Thai School in District 5, Ho Chi Minh City, shared his thoughts on the course: "Whenever I watch television, I feel touched at the image of a soldier who sacrificed their life for the country. I decided to join the course to understand more about them and I admire them much more since they can stand the hardship on a distant island."
While his friend, Nguyen Ho Tra My, said; "Sailors have a hard life in remote islands, but Vietnamese sailors are optimistic, planting vegetables, breeding animals to improve meals and growing ornamental trees."
Under the scorching sun of the southwest, the special young soldiers were sweating as the sun beat down upon them but they were engrossed in practicing exercises.
During the morning, they learn martial arts, swimming skills and military marching. In the afternoon, they along with soldiers, plant vegetables, clean their billets, or support football or volleyball matches.
When nights fall, they sing and dance around a fire. In addition, they write letters to families, friends and note down some words about their feelings of the course on Phu Quoc Island.

This is the second course for such students, said the director of the Southern Youth Center, Nguyen Tuan Hung.
The target of the course is to train students' fitness and give them life skills and have a comfortable summer holiday before starting the new school year, he added.