More than 940,000 students from Grade 12 sat for Literature and Chemistry national high school graduation exams on June 2.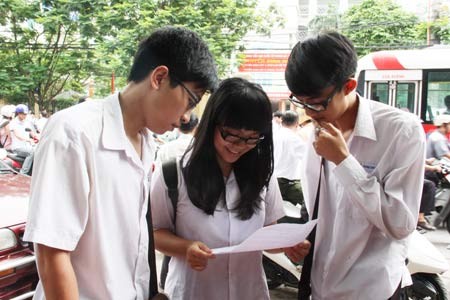 Students were happy after the examination (Photo: SGGP)
According to the Ministry of Education and Training, around 942,975 students sat for the examination, accounting for 99.67 percent of total number of students who registered for high school graduation tests.
During this period, thanks to good preparation, there was no traffic gridlock in big cities such as Hanoi, Hai Phong, Da Nang, Ho Chi Minh City and Can Tho.
Le Hong Son, deputy chief of the Department of Education and Training in HCMC, said all preparations were perfect as schools reported no students arrived late for the examination or were caught with cheat sheets.
Candidates for the Literature test remembered Nguyen Van Nam, a Grade 12 student from the central province of Nghe An, who died after he successfully rescued five other students from drowning on April 30.
Candidate Nguyen Thi Thu Quyen of Nguyen Hue Senior High School in Hanoi said this test was very down-to-earth as most students had heard about the story of Nguyen Van Nam and candidates all felt comfortable in writing their feelings about their brave friend.
Teacher Nguyen Thi Kieu Huong, headmistress of Do Luong Senior High School where Nguyen Van Nam studied, said the Ministry had decided to choose Nguyen Van Nam as a topic for the Literature test, to encourage young people to lead such a good example.
Many elderly students took the examination. Sung Chu Mua, 46, chairman of Fatherland Front in Lung Chinh Commune of Ha Giang Province sat for the graduation examination. Ho Xuan Vinh, 45, one of the most elderly candidates from Thua Thien-Hue Province also took the examination.
Meantime, tens of ethnic minority children under three years of age waited with their moms to sit for examination at Quoc Hoc-Hue High School for gifted students in Thua Thien-Hue on June 2.
Ho Thi Hoa, Ta Oi Ethnic Minority, was baby sitting a seven-month-old child while the mother took the examination.