Tran Nhan Tong High School convened a meeting March 17 in Hanoi to decide penalties for students who had participated in a recent beating caught on camera.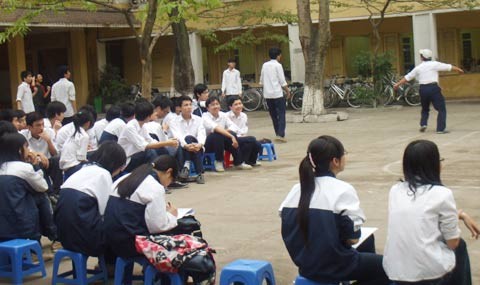 Students of Tran Nhan Tong high school attend class outdoors. Last week, a video clip was circulated on the Internet showing a girl from the school violently beating another female student.
The video clip, circulating on the Internet since March 10, shows a girl from the school grabbing the hair, dragging and kicking the face of another female student in a public park.
It also shows several other students sitting on surrounding benches, watching and recording the incident. Some even join in to beat the girl.
The Hanoi Department of Education and Training March 16 met with school officials and students who appeared in the video.
Nguyen Hiep Thong, director of the education department, said he was angry after watching the clip as the incident took place in a public area, yet no adults intervened while other students watched indifferently.
He said the involved students had written letters acknowledging their wrongdoings.
The education department has directed schools to hand down strict punishments to all involved students, ranging from warnings to suspensions. In addition, police will impose punishments on those found skipping school.
Earlier on March 12, the education department asked the Hi-tech Crimes Prevention Team to investigate the minute-long video clip of the beating.
The incident also prompted the Ministry of Education and Training to order education departments to take steps to prevent violence among students.