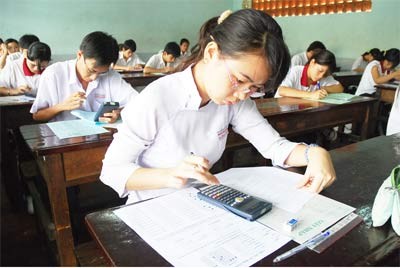 High-school 12th graders across the country will sit for their final Exam on May 30 (Photo: Mai Hai)
On May 30, high-school 12th graders across the country will sit for their three-day final examinations. In early July, graduates will then take university entrance exams. Such is the routine occurring every summer when youths complete their high-school education and try to open the gates to their future by choosing a career through university training.
Statistically, only 30% of high-school graduates will find a seat at a university, public or private. Some thousands will go on overseas study courses in Australia, Singapore or the US. Whether at home or overseas, they bring with them their family's highest expectations.
Traditionally, the scholar's path has always been the highest goal in life. After long years of reading up on classics and history, the examinees approach their finals with a burning desire to returning home successfully and pay thanks to ancestors after achieving academic honor. This way their communities and families might be proud and they will be recognized for building a good life for themselves and for the nation.
To serve the nation only naturally goes with creating a career. Presently, the two concepts still exist very codependently. University studies depend very much upon the needs of society. With Viet Nam's integration into the WTO, there are increasing demands for finance, banking, IT, stock market, and marketing staff; therefore, these careers are attracting greater numbers of examinees.
For a child to study well takes immense effort on the family's part. The cost for four years at a university is not low. It takes US $8,000 to $10,000 for a Vietnamese university bachelor, but parents regardless see their children off to their studies with a pledge of fulfillment. They know they will have to work painstakingly and sweatily for their child to succeed. The students know it, too. To cover the expenses and to reduce the hardship on their parents' shoulders, many undergraduates take part-time jobs like tutoring or serving at an eatery, or even repairing bikes. All hands help in family affairs – that is how Viet Nam excels. One member's concern is everyone's concern.
Every May therefore marks an important two-month period in every high-school graduate's life. Twelve years of "burning the midnight oil" are judged in two examinations. May hard-working students reap their rewards!