Many schools in Ho Chi Minh City have organized soft skill training classes during the summer break to keep children preoccupied in a positive manner as well as help them learn enjoyable and useful soft skills.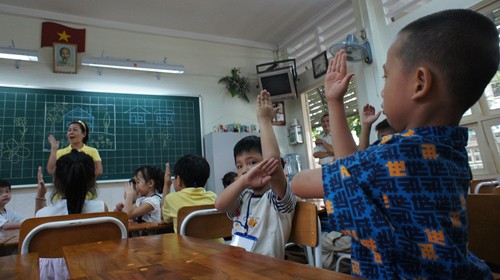 A soft skill training class for kindergarten children in Luong Dinh Cua Primany School (Photo: Tuoitre)
A cooking class in Nguyen Binh Khiem Primary School in District 1 shows many cheerful faces learning to prepare an omelette and fried eggs. With equally great enthusiasm they learn to make Vietnamese baguette and lemonade! 
Cao Nguyen Minh Minh, a third-grade student is excited, "I can prepare Vietnamese baguette and lemonade all by myself! From now on, being at home alone won't be as boring as I can take care of myself."
According to Principal Le Thi Ngoc Diep, this is the fourth time the school has organized such training classes and sports activities like martial arts, swimming, badminton, football, chess and aerobics for students. The numbers of students attending these summer training courses are 650 children, 550 of whom have joined full time. 200 students are those that are from outside the school.
Similarly, Luong Dinh Cua Primary School in District 3 is offering soft skill training sessions this summer according to the age group of a student. Young children from kindergarten are also being welcomed, to prepare for the first academic year with lessons like how to raise a hand, sit properly and interact with others.
Principal Vu Thi My Hanh said that this was the first time the school was organizing such activities, realizing that children need preoccupation during summer vacation while parents remain busy at work. Summer classes not only keep children occupied but also help in developing latent skills.
Attending  soft skill training sessions for the first time, fifth-grade student Nguyen Tran Vy had an opportunity to visit orchards in Cu Chi District and learn about the different kinds of fruits, as well as practice using home appliances in the right way, "This is my most amazing summer!" exclaimed Vy.