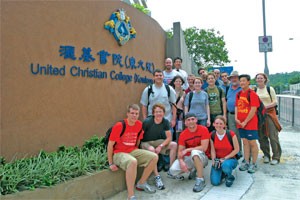 Foreign students in a summer foreign study program in Hong Kong
Travel companies now can offer summer foreign study programs with a wide range of destinations to Vietnamese students.
Most of the short-term programs are designed with both learning and playing activities. Young visitors will go to English classes in the morning and outdoor activities for the rest of the day.
Beside the courses at school, learners could leisurely walk on the Orchard Boulevard, enjoy the sunshine at Sentosa Island, play in the Jurong Bird Park and visit many universities in Singapore. Especially, students might rest in well-equipped and luxurious resorts during the short-term courses in Singapore, better known as the island city-state.
In addition to English classes, young learners will be offered sigh seeing tours boasting the beauty of Canada and its people. Niagara waterfall - one of the wonders of the world - would surely appeal to students. Foreign students could see the Crawford Lake, where the Iroquoian Village was founded in the 15th century.
In recent years, short-term study abroad courses have no longer been exclusive to overseas study consultancy agencies. Most of the leading travel agencies, with lots of experience in holding external travels, have shared the market.