The Southern Youth Center announced at a press meeting on April 3 that a summer training program for junior and secondary students has kicked off in Ho Chi Minh City.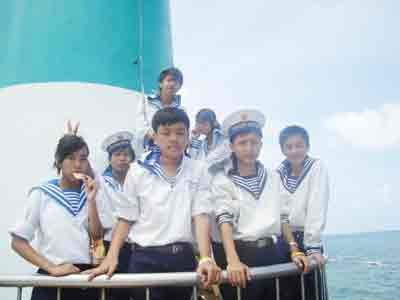 Teens join a training course to have real life experiences of being sailors
The summer course will train students to improve various life skills and will run from April until August.
Students joining the "Stand at attention" program will enjoy a comfortable summer vacation before starting the new school year.
The course teaches children how to do farm work like a farmer, how to be more confident and brave in an emergency situation, become more useful as a person and develop a more practical and lateral way of thinking.
In addition to this program, they will also participate in the "Semester in Arm" program in Singapore.
The target of the summer course is to train students in fitness and encourage a sense of discipline, independence, competence and love for community and family.
Moreover, the youth center will have a one-month special program this year to teach students between the ages of 13 to 20 years how to become better leaders in future and understand themselves better in order to lead a more meaningful life.
The course fees range from VND800, 000 to VND350million.