In a bid to provide education to all migrant students, the local authorities in Tan Binh District in Ho Chi Minh City have spent more than VND93 billion (US$4,4 million) to build new schools for the next academic year.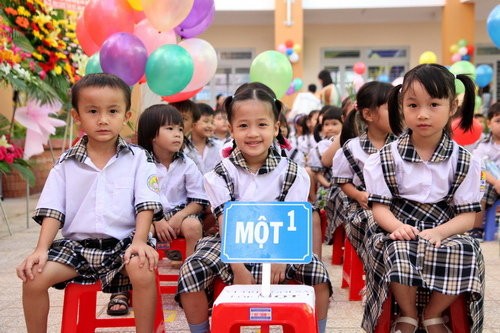 First graders of Than Nhan Trung Primary School welcome the new academic year
Tan Binh District Authorities have built Than Nhan Trung Primary in Ward 13 over an area of 3,350 square meters with 22 classrooms and 10 special rooms; Cach Mang Thang Tam Primary School in Ward 12 on 752 square meters with ten classrooms; and Sao Sang Preschool in Ward 3.

In addition, the district administration has invested VND6.7 billion (US$314,900) in repairing 10 preschools, nine primary facilities and five junior high schools to provide education to more than 70,000 students of all levels.

At present, the authorities are continuing to spend VND114 billion (US$5,358,013) for constructing new educational facilities such as the Nguyen Van Troi Primary School in Ward 11 with 30 classrooms; and Preschool No.13, No. 14 in Wards 13, 14.

All these schools are expected to open in the next academic year.