Teacher Le Dinh Hoang, who recorded students cheating during a high school graduation exam with his cell phone video camera, was honored for his "courageous act".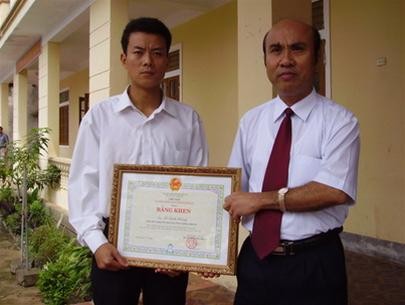 Mr. Hung hands teacher Le Dinh Hoang (L) a certificate of appreciation
On behalf of the provincial People's Committee, Le Tien Hung, director of the Nghe An Education Department, handed teacher Le Dinh Hoang a certificate of appreciation Wednesday at Nam Dan No 2 Senior High School in front of the assembled teachers and students.
In the ceremony, Mr. Hung hailed teacher Hoang's act and told the school leaders that they must review their faults and set forth appropriate punishments for those teachers whom in abandoning their posts allowed the cheating to occur.
In addition, the school should implement the "Say No To Misconduct" campaign.
Before the decision to reward Hoang was made, teacher Hoang, along with 73 other teachers, had been listed amongst those who had violated the Vietnamese exam rule.
The inspectors from the Nghe An Education and Training Department claimed he had left his position as a supervisor at Nam Dan 2 School to shoot the film.
The disproving conclusion of the inspection surprised the public and leaders of the Education and Training Ministry. Deputy Minister Banh Tien Long recognized and asserted that teacher Hoang's act must be honored.
Link:
Video Clip Recorder of Exam Cheats Reveals Identity