At the ceremony to review the education and training's activities in the school-year and on the anniversary of Teacher's Day, the Education and Training Department praised 9,416 excellent teachers and 462 teaching staffs.

59 educational units and 106 teachers will be granted certificates of merit for their achievements in many years.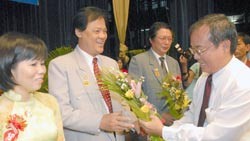 Mr. Tai (1, R) gives flowers to excellent teachers
Speaking at the ceremony, member of the city party committee and Vice Chairman of the People's Committee Mr. Nguyen Thanh Tai commented the achievements which the city's teachers have gained.

Mr. Tai emphasized that it is impossible to deny teachers' credit in spite of some wrongdoings in schools.

"Most teaching staffs have made efforts to overcome daily difficulties to fulfill their tasks. Thousands of teachers and teaching staff groups are hailed, which is a good example of their contributions to the teaching profession," Mr. Tai added.

The city's leaders decided to spare 21 per cent of the budget for education, of which VND10 billion is for needy pupils in distant regions.

Ho Chi Minh City People's Committee decided to raise teachers' difficulty allowance from VND150, 000 to VND500, 000. The decision will be submitted in the forthcoming People's Council meeting.