More than one million senior teachers in Vietnam are awaiting their allowance after the Government decided to apply a new senior teacher allowance policy from September 1, 2011.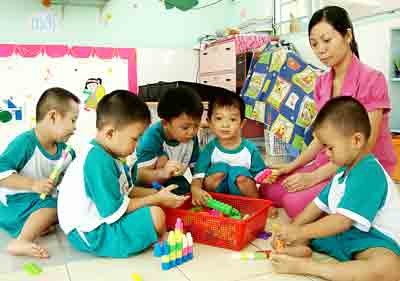 Preschool teachers receive very low wages and the new senior teacher allowance policy will help increase monthly incomes. Delay in implementing the policy is causing concern to teachers (Photo: Sai Gon Giai Phong)
Nguyen Thi Kim Huong, head master of Le Dinh Chinh Primary School in District 11 said teachers were ecstatic when they learnt of the new senior teacher allowance policy.
This new allowance policy would increase income for the senior teachers by an average of VND465,000 (US$22) per month, according to the head master.
Le Dinh Chinh Primary School immediately sent a list of about 30 senior teachers to the authorities but so far there has been no response.
Many other schools in Ho Chi Minh City also said that they had sent their lists in October but have not received any further information regards the issue. This lack of response has made teachers express their doubts of the policy.
On the other hand, Le Thi Le Van, principal of Hoa Mi No.3 preschool in District 5 was concerned about allowances of accountants, nursemaids, cooks and guards whose salaries are far too low. Because of meager wages, many have quit their jobs of late.
Le Hoai Nam, deputy head of the Department of Education and Training in HCMC said the department is currently completing formalities and was awaiting additional guidelines from the Ministry of Education and Training (MOET). He expects the senior teachers will receive allowance bonus shortly.
Funds for the allowance will come from school income and State budget, said Nam.
The new senior teachers allowance is an excellent policy to encourage outstanding and experienced teachers and for students to choose teaching as a career. However, the delay has raised doubts amongst teachers. It is high time MOET releases official guidelines in implementing the policy to raise education standards and not crush expectations and hopes of senior teachers.
Teachers with 40 years' experience will receive a seniority allowance equal to 40 percent of their salary, under a decree drafted by the Ministry of Education and Training.

The beneficiaries of the allowance are teachers at State schools with salaries based on Government Decree. Teachers with five years' experience will be paid an allowance equal to 5 percent of their salary, to increase by 1 percent each additional year. The allowance will be paid monthly along with the salary.

A good aspect of the policy is that allowance will continue to be paid even after retirement, along with pension, whereas the present regulations only provide allowance for working teachers.

The seniority allowance for teachers was implemented in 1988, but was abrogated in 1993 and replaced by the new senior teacher allowance policy.