For the past three years, poor students at Tam Binh Senior High School, Vinh Long Province, have been receiving free lunches during exam preparations. The lunches are made by the school's management and teaching staff.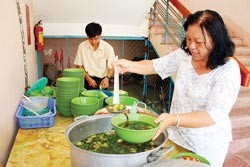 Principal Nguyen Thi Hong Lac prepares the meal for the students
Huynh Thi Hong Lac, principal of the school said, "After finishing the morning class session, many students who live far from school have no choice but to stay at school during lunch time to wait for the afternoon session to begin."

"Before we had the program to offer free meals to poor students, which began in 2007, many of them had to attend the afternoon session on an empty stomach, as they didn't have money to buy any food," added Ms. Lac.

In mid 2006, Ms. Lac began to think about how to raise money from benefactors to cook free meals for the students.

In March 26, 2007 she tried her luck by organizing a music show. Although performers in the show were all students of the school, the success of the show was beyond her expectations, as the event managed to raise VND30 million.

Thanks to the money, the school could provide free lunches to nearly 120 poor twelfth graders, and donated hundreds of notebooks to poor students of classes 10, 11 and 12.

In 2008, due to price increases, teachers at the school decided to donate one day's salary to the program to ensure the quality of meals.

Ms. Lac said, "This year, despite the affect of the global financial crisis, we were lucky enough to raise VND20 million and 450 kilos of rice. The number of poor students registered for free lunches now reaches 148."

To cut down on expenses as much as possible, all the teachers have been mobilized into helping the cooking. Everyone is encouraged to give a helping hand.

Liberian Tran Thi Trinh, who is good at cooking, is assigned the task of chef.

Others chop vegetables, set tables, and, of course, some have to wash the dishes. The night security guard is entrusted with the task of cooking rice. To fulfill his task, at 4:30am he has to wash the rice and plug in big rice cookers.

Ms. Lac explained, "Rice is cooked very early in the morning just in case of unscheduled power cuts, which can happen at anytime during the day."

No words can express the teachers' devotion to their students. Despite the painstaking job, no one utters a word of complaint.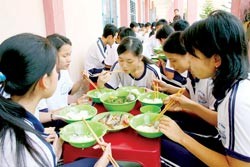 Students enjoy the free lunch together
Huynh Thanh Truc, a chemistry teacher, said, "The cooking makes me busy but I at the same time I have so much fun, joining hands with my colleagues to do something good for the students."

The bell rings, signaling the end of the morning classes. Teams of twelfth graders walk out from their classes into the cafeteria. Lunch is ready. The wonderful smell spreading from the food lights up the faces of the hungry students.

Groups of six students sit together around every table, found on which are a large bowl of rice, a large bowl of soup, a plate of sautéed vegetables and dish of pork and eggs simmered in coconut juice.

"Sooooo yummy !" some students manage to say, as they chomp down on lunch.

Although they are just common dishes that can be easily found in a daily meal of many Vietnamese families, the foods seem to be so delicious to the disadvantaged children, who at home often have nothing but boiled vegetables with fish sauce.

Vo Thi Thanh Thuy, a student who won third prize in the 2008 National Information Technology Contest, said, "I'm extremely grateful to the teachers for what they've done to help us. Wherever I go or whoever I will be in the future, I'll always remember these lunches, as well as the dedication of my respected teachers."

Tran Thuy Doan, who lives 16 kilometers from the school says, "A lunch box costs VND10,000. It's costly for my family. I would, of course, starve if such free lunches were not offered to poor students."

Looking at the children having lunch happily together, Ms. Lac said, "What we've done is to set an example to the students. I hope that through such meals, the students will learn a lesson about the responsibility of an individual toward the community and society. I also hope that someday, when the students achieve success in life, they will be ready to give a lending to hand to other people who are in need."