Vietnam's annual Teacher's Day (November 20) is a unique cerebration to honor educators for their hard work and dedication. For the country's many foreign teachers, the outpouring of appreciation, flowers and gifts is often overwhelming. 
Robert Cotgrove teaches at Saigon International School in Ho Chi Minh City and has lived in Vietnam for five years. He says his first Teacher's Day came as a great surprise.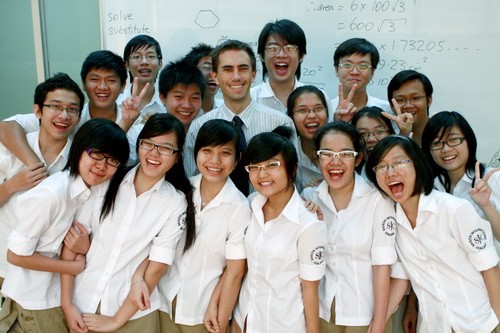 Teacher Robert Cotgrove (C) with his students in Ho Chi Minh City on Teacher's Day (November 20). (Photo: Tuoi Tre)
Cotgrove says a group of students came to the guesthouse where he was staying and invited him outside. As he followed them out, they shouted "Happy Teacher's Day," and presented him with a new bicycle. He was so touched he could only stand quietly with tears in his eyes.
Another teacher from France, Virginie Dupuch, teaches at the Institute for Cultural Exchange with France (IDECAF) in Ho Chi Minh City last year on Teacher's Day, he found his students had written numerous thank you notes to him on the blackboard. The teacher says he was so touched he couldn't speak and felt overwhelmed by the show of gratitude.
Dupuch says he never realized how revered teachers were in Vietnam until he came here. In France, students most often see their teachers strictly as authority figures who teach to make money.
In France, teachers have never felt overly close to the children they teach and rarely give them gifts, says Dupuch. Teachers and children only see each other at school and treat each other with a distance. It is very heartwarming to see the close relationship between students and teachers in Vietnam, he adds.
Dupuch says he hopes that one day there will be a Teacher's Day in France to raise the level of respect bestowed on educators.
Timothy Scott Thompson, teaches at America International School in Ho Chi Minh City, and still remembers his first Teacher's Day in Vietnam. He went out for dinner with his students and received bouquets of flowers and other gifts.
He says students' respect for their teachers in Vietnam is a huge motivating force and helps him strive to do the best job he can. Teacher's Day is a great reminder to everyone about the important role that educators play in society and the impact they have on students' lives, he adds.