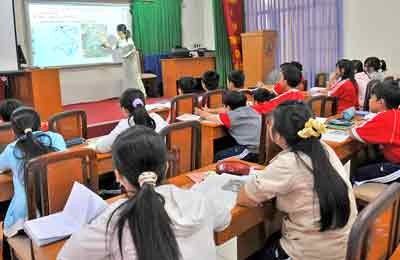 Students attend class at Luong The Vinh high school in Ho Chi Minh City. Many teachers endeavor to make lessons more interesting to keep students from dropping out, but heavy curriculums and poverty lead several young people to quit school each year. (Photo: SGGP)
Educators in Ho Chi Minh City say it is an uphill battle to prevent weak and underprivileged students from quitting school. Fearing that students who drop out won't just lose out on an education but will also fail to develop good values, many teachers strive to keep classes dynamic and engaging.
But due to intense curriculums, this is no easy task, they say. Children leave school early for many reasons but above all, most quit because they simply can't keep up.
HCMC junior high schools have a drop-out rate of around 20 percent while high schools have a drop-out rate of around 11 percent.
At the end of  second semester of 2009-2010 academic year, the city's Nguyen Huu Tho high school reported 13 students quit their studies; Binh Phu reported 15 drop-outs; Nguyen An Ninh reported 38; and Han Thuyen reported 46.
Research shows that most students who abandon school come from poor immigrant families. They are often forced to quit studying to help their families eke out a living doing odd jobs like selling lottery tickets or balloons, or collecting garbage. Others leave school due to illness or because their parents can't afford to pay rent and the family has to move. But most students, however, give up on their education because they find school too difficult.
If teachers don't strive to make lessons more interesting, students can become easily bored and are more likely to drop out.
Some parents also contribute to the problem by showing an indifference to their children's education. Officials at the Bong Sao A junior high school in District 8 said some students are chronically late for class and struggle with their studies, but their parents fail to address the problem and ignore requests to speak to teachers. 
Many students with behavioral issues or who bully others also cause headaches for teachers, but schools say they can't expel them for fear they will never continue their education and take to a life on the streets.
If a school reports a particularly high number of drop-outs, the Department of Education and Training will put pressure on school officials to curb the problem, but teachers say that despite offering incentives like scholarships, many students continue to leave.