Teachers in primary schools in the Mekong delta province of Kien Giang have reacted angrily to Giong Rieng District's Bureau of Education and Training's demand that they sit simple mathematical problems.
While their colleagues in educational establishments around the country have been relaxing over the past two months during the school vacations, primary teachers in the district have been revising math at first to fifth grade level, as demanded by their bureau on April 20.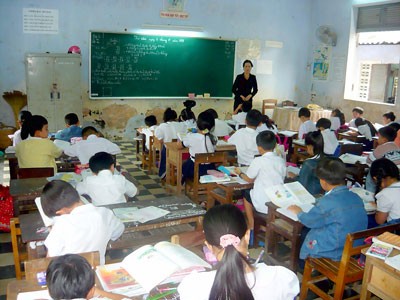 A second grade class in Giong Rieng District (Photo; SGGP)
Teachers have calculated they have to do 2,000 problems.
Some were displeased and others even felt offended, angered and hurt since they were asked to conduct so simple mathematical problems.
A teacher, N.V.T., said; "We felt angry because the bureau did not distinguish from difficulty but forced people to do even the simplest of questions. It is a waste of time." He added that he could not do anything in the summer vacation except for solving thousands of math problems.
To complete the mission on scheduled, some teachers even sought assistance of their relatives like teacher M. who confessed to asking fro help from her husband and children to finish the deadline.
The bureau explained its need to improve teaching quality, especially mathematics, as no pupils out of 200 could achieve average marks in the maths tests for fourth and fifth grades in 2007-2008 school year.
Anxious about the result, the bureau introduced the policy, hoping that all primary teachers can solve all varieties of math, from which they will better teach in the new school year.
Deputy head of the bureau, Tran Van Dien, said; " We don't assess teaching staff's' capacity of transmitting knowledge of maths. We will change some improper requests, and determine what kind of math should be solved and who will do it."
In response to teachers' complaints, the bureau explained its actions to the province's Department of Education and Training.
The director of the department, Lu Van Nhut, confirmed the policy had been carried out hastily. The department corrected the bureau's mistake by limiting the number of math problems, in addition, teachers for each grade will be asked to discuss the situation after one year of teaching.