A teacher afflicted with kidney disease and another who devoted her life to teaching the poor have been honored with the Vo Truong Toan Prize 2009 for their outstanding contributions to education.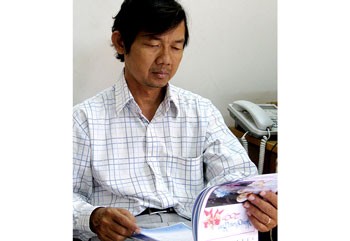 Mathematics teacher Luong Anh Van
Math teacher Luong Anh Van of Nguyen Gia Thieu Secondary School in Ho Chi Minh City's Tan Binh District, who undergoes medical treatment three times a week for kidney disease, has more than 25 years of teaching experience.
He was also granted the Vo Truong Toan Prize in 2005.
Mr. Van started teaching in Cu Chi District 20 years ago, a poor rural area in HCM City. He has faced many difficulties over the years but never thought about quitting.
Most of his students came from poor families and were often forced to cut class to help their families, especially during the harvest season.
Under a flickering oil lamp, Mr. Van and his colleagues held night classes at the students' houses in the hope of lightening the burden on their young shoulders and helping them continue to study.
Even after 20 years, teachers and students still recall unforgettable memories about Mr. Van's dedication to his students. He says that teaching is like an invaluable spiritual medicine for him to overcome the difficulties of life and disease.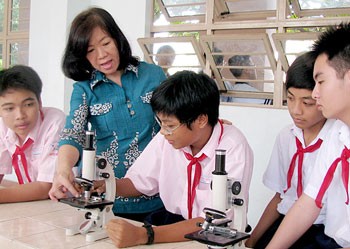 Biology teacher Nguyen Thi Kim Loan is instructing students to carry out an experiment.
Also honored with the Vo Truong Toan Prize 2009 award is biology teacher Nguyen Thi Kim Loan of Nguyen Huu Tho Secondary School in HCM City's District 7.
Ms. Loan has spent over 30 years teaching. She began her career in a remote and disadvantaged commune in the former Mekong Delta province of Cuu Long, which was split into Vinh Long and Tra Vinh provinces in 1991.
Despite having to ride a long distance on a rickety bicycle to reach her students each day, Ms. Loan never faltered.
Her first-ever present on Teacher's day, November 20, was a grapefruit that a student had picked in his garden. The young teacher was moved by the gesture and felt indebted to the disadvantaged students in the poor rural area. When she would leave for the city, her students eyes would fill with tears and it was that image that inspired her to keep teaching.
"Teacher Kim Loan gives all her heart to the students and teaching. She has many interesting innovative teaching methods," said Ms. Cao Thi Long, Principal of Nguyen Huu Tho Secondary School.
The Vo Truong Toan Prize 2009 award ceremony honoring 30 teachers in HCM City will be held at the Opera House and broadcast live on HCMC Television on November 18.
 

Related article:
SGGP to confer Vo Truong Toan Prize on 30 teachers