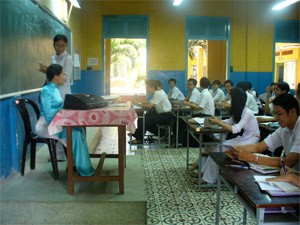 Teachers are shining examples to pupils ( Photo:U.Phuong)
Speaking at the ceremony to glorify people who have good doings and exemplary teachers in Ha Noi, Education and Training Minister Nguyen Thien Nhan highly appreciated the teaching profession, emphasizing that teachers are responsible for training and providing human resources for the country in the new era of global competition.

"Teachers should take over the noble duty to build up a stronger nation. Teachers should thus set shining examples to pupils," he added.
At the ceremony, eight outstanding teachers, 16 teaching staffs and individuals were granted Labor medals by the government.
In addition, the Prime Minister gave merit certificates to 49 teaching staffs and individuals for their contributions in the last school-year.

Also attending the ceremony, held at the Chu Van An high school, was Secretary of the Ha Noi Party Committee Pham Quang Nghi.
On the 24th anniversary of Teachers' Day (November 20), some other activities were also launched.