The teaching of French is developing in Southeast Asia, according to Director for the Asia-Pacific of the International Organisation of La Francophonie (OIF) Eric-Normand Thibeault.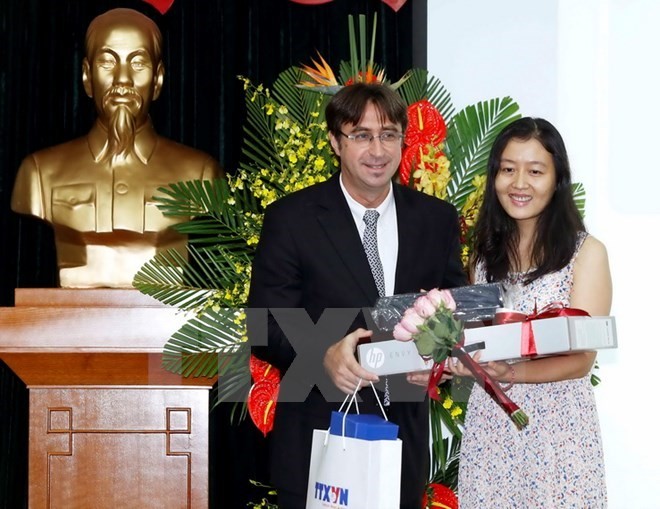 Director for the Asia-Pacific of the OIF Eric-Normand Thibeault (L) presents the first prize of the the Young Francophone Reporters contest in 2016 (Photo: VNA)
In a recent interview with Vietnam News Agency on the threshold of International Francophonie Day (March 20), he said the Francophone community gathers more than 80 States and governments around the world.
Since the OIF's establishment in 1970, it has expanded to many countries such as Vietnam, Vanuatu, Laos, and Cambodia. The OIF is a diverse community in which member states and governments promote solidarity, peace, dialogue and linguistic diversity.
He noted that in recent years, thanks to efforts of the regional centre for education and training and the OIF's French teaching system, many primary and high school students in Cambodia have been taught French. While the teaching of French is maintained in Vietnam and Laos, the number of French-language learners in Thailand is growing.
The OIF has been carrying out a four-year master plan since 2015, he said, elaborating that the plan consists of 16 programmes, including those supporting the French language teaching, the cultural industry, and efforts to fight climate change.
One thing that should be enhanced is young French-language teachers' teaching methods by helping them use digital technology. They can practice self-learning and search for teaching resources on the internet, Thibeault said.
He lauded the TV programme "Espace fracophone" of the Le Courrier du Vietnam newspaper on Vietnam News Agency's VNews channel. It has helped popularise the French language through digital communication.
French helps to bolster linguistic diversity, and the learning of languages plays an important role in education, he said, adding that French can be practiced through literature, blog or on social networks.
With the assistance of the OIF, Le Courrier du Vietnam successfully held the first Young Francophone Reporters contest in 2016, through which many young talents were discovered.
The OIF wants to continue working with the newspaper to hold this competition this year to honour the Francophone community, Thibeault said.