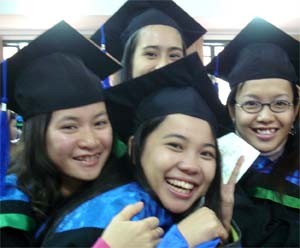 University graduates at their graduation ceremony (Photo: Van Hanh)
Ho Chi Minh City-based VnPro will organize the Graduate Management Admission Test (GMAT) in Viet Nam as international educational organization Pearson has approved the first step to enter MBA studies.
Students in Viet Nam who want to take an MBA degree at international business schools have to pass a GMAT. Those with high GMAT scores have good opportunities to get scholarships to study in the U.S.
In late November 2005, the Pearson Virtual University Enterprises, a unit of Pearson Education New York, appointed VnPro as its first authorized test center in Viet Nam. Given this nomination, Vietnamese educational organization VnPro will organize online examinations including GMAT for international certificates.
VnPro has started training its staff to organize the examinations. It organized the first GMAT in December 2005 at its office at 149/1D Ung Van Khiem Street, Binh Thanh District, Ho Chi Minh City.
Previously, without Pearson's authorized test centers in Viet Nam, learners had to take GMAT in other countries of the region.
International educational institution Pearson is operating centers in American, Australia Britain, China, India and Japan.