A week-long textbook exhibition has opened at the Ho Chi Minh City Exhibition House ahead of the new school year which begins in September, and offers discounts of 10-50 percent.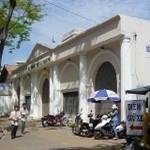 HCMC Exhibition House
On display are many new books like English Alive-Science and English Alive, bilingual books in Vietnamese and English about flu epidemics and ways to prevent infections, Earth Day, World Environmental Day, and more.
It is being organized by the Vietnam Education Publishing House, Phuong Nam Education Development and Investment Joint Stock Company, Textbook Printing Joint Stock Company, HCMC Book and Educational Equipment Joint Stock Company, and Thien Long Joint Stock Company.
The display at 92 Le Thanh Ton Street, District 1, will run until August 23.