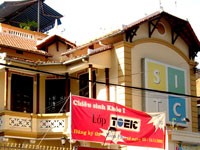 One of the SITC's campuses in District 1.(Photo:TC)
Singapore's Kamadhenu Ventures Pte Ltd., the UK's AEC Education Group, and HEG Singapore Pte Ltd. wanted to acquire the SITC, announced Phan Huu Thang, head of the Foreign Investment Office under the Ministry of Planning and Investment (MPI).
HEG sought permission from the MPI to take over SITC and its short-changed staff and stranded students, he added.
Kamadhenu already runs a junior high school in Vietnam besides offering management training courses.
If Life Knowledge Pte Ltd (LKC), which owned SITC, do not set up a board to liquidate the campuses' material facilities within 30 days starting from the day their investment licence is revoked, the MPI must do it, Thang added.
However, he admitted it would be very difficult since the ministry had no information about the school's actual financial status, including its debts and remaining assets.
The ministry would revoke SITC's license if LKC failed to find any suitor by March 15, 2006.
Tan Hong Seng, LKC's counsel, affirmed that his clients could not find new investors.
It is, however, believed to be so hard to sell the school without Michael Yu's agreement, he said.
Yu, one of LKC's directors and Viet Nam-based SITC's director, absconded just before the school's closure and was nabbed in Taiwan later.
Over US$1 million, instead of US$400,000 as earlier reported, was poured into the SITC's campuses in Viet Nam, said the counsel.