Three overseas Vietnamese students who live in Orange County, US received "Gates Millennium" scholarships from billionaire Bill Gates, chairman and chief software architect of Microsoft Corporation.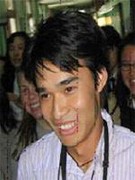 Student Nguyen Duc Duy
The students are Nguyen Flang, 17-year-old student of Westminster High School, in Huntington Beach Union High School District; Nguyen Duc Duy,17-year-old student of Santiago High School and Jade Le, 18-year-old student of Rancho Alamitos High School, in Garden Grove High School District.
"Gates Millennium" scholarship funded by the Bill and Melinda Gates Foundation, offers scholarships to outstanding low-income students of diverse backgrounds.
Besides, they have to prove their ability as a leader to the community's activities. The scholarship is worth hundreds of thousands of US$.
Nguyen Flang will study medicine in the University of California, San Diego (U.C.San Diego). Jade Le has been admitted into Harvard University and Nguyen Duc Duy is going to study international relation and trade in UCLA (University of California, Los Angeles).