RMIT International University Vietnam hosted a major international conference "TVET for Sustainable Development - Opportunities and Challenges" from July 2-5 in conjunction with the UNESCO-UNEVOC International Centre for Technical and Vocational Education and Training (TVET) in Bonn, Germany and RMIT Melbourne.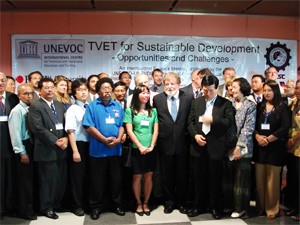 Delegates from countries at the meeting (Photo: U.P)
The meeting forms part of the United Nations' Decade for Sustainable Development. It aimed to consolidate international experiences of the relevance of sustainable development and disseminate strategies for addressing the issues that arise in developing policies and programs.

The conference would allow delegates to share international experiences around technical and vocational education and training.
This wide scope will ensure that the importance of TVET for sustainable development becomes a key part of the agenda to be followed during the Decade on Education for Sustainable Development.
Opinions will be published in the UNESCO-UNEVOC book Series on Technical and Vocational Education and Training in English, Chinese, French and Russian.
Mr. Jang-Ho Kim, President of Korea Research Institute for Vocational Education and Training delivers his speech (Photo: U.P)
About 70 experts from technical colleges across Asia met at the RMIT Vietnam Saigon South campus in Nguyen Van Linh Boulevard, District 7.
from 2 to 5 July.
Co-sponsors include the Colombo Plan Staff College for Technician Education, the Korean Research Institute on Vocational and Technical Education, the Australian National Centre for Vocational Education Research, the Norwegian Institute for Water Research and InWEnt (Germany) and AusAID.